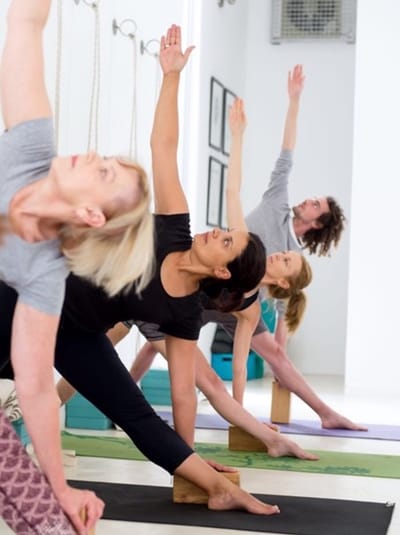 Classes are suitable for all levels of yoga practitioner, including those with no previous experience. Classes are well structured and the poses very well explained. There are loads of instructions and guidance so beginners are welcome. Also, with the use of props, Iyengar made yoga accessible to everyone and you will develop self-awareness and sense of alignment in the poses as you develop your practice.
Currently, classes are offered online via Zoom, in conjunction with in studio attendance.
Should you wish to attend in studio, please confirm attendance as space is limited.
The studio is situated in the beautiful Carlswald Valley in Midrand, Johannesburg.
What Can You Expect from the Class?
A safe, methodical progression of yoga poses.
Technique – Precision, alignment and awareness in preforming the yoga postures.
Sequencing to develop strength, flexibility, stamina, concentration and relaxation.
Clear demonstration and explanations.
Individual correction and/or adjustment when necessary (live classes only).
Additional Online Class Info:
- You will need to download the free app Zoom Cloud Meetings. You will then sign in to class using the Meeting ID and Password that will be sent to you. Before signing up for your first class, we will need to 'meet' online so that I can discuss and health issues with you.
- Please set up in a quiet room with minimal noise and distractions. You should set up your mat 2-3 metres away from your camera so that I can view your whole body and give verbal instructions for any corrections. If you have two mats then set them up in a T-shape.
- Check that your device is fully charged and ideally that it is plugged in so that you can enjoy the full class without losing power.
- You will need some basic equipment such as blocks, blankets and a strap. You do not need the traditional equipment, any suitable alternatives will do. For blankets, you need firm ones, not soft fleece blankets - beach or bath towels also work well. If you do not have a strap, you could use a kitbag strap, an old tie, or even a soft/canvas belt. An alternative to blocks could be a small bench, a biscuit tin, DVD box set or a stack of books. Guruji once did a backbend over his bicycle, so get creative.
- Please sign on early so that we can tend to any technical glitches before class starts. This will also give you a chance to catch up with the others in class.